Mama M from
My Little Life
is hosting a Valentine's Day Extravaganza. I confess that I have never read her blog before but I saw that my friend
Melissa
was participating and I thought "that looks like fun!" So I decided to join in. :)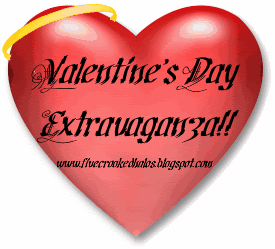 Here's the run down for the week...
Sunday
: The story of how you met the love of your life.
Monday
: Your favorite date story (good or bad!)
Tuesday
: Engagement stories.
Wednesday
: What is your favorite memory of your wedding day?
Thursday
: Tell the story of your love's biggest romantic screw up.
Friday:
Five question Friday... love style.
Saturday
: Photo day!
Sunday
: Ten things you love about your love.
I missed yesterday because I just found out about it today. So in a nutshell... we met at college. No instant chemistry or fireworks or anything. Just friends. Good friends. And over time love grew and here we are having just celebrated seven years of marriage and we have two lovely children.
On to today... My favorite date story.
Hmm...
Well there was the time that we went out to eat in the month of April and at some time during our meal the staff came out and threw a massive sombrero on my head and sang happy birthday to me. I was a little confused because my birthday is in September. He got me.
But I think my favorite will have to be the time he took me to
Shakespear's Restaurant
. There is a story that goes with it. In college when we were just friends (well he liked me I guess but I didn't know) Mike and some of his guy friends decided they wanted to each ask a girl to go to this restaurant and get all dressed up for it. It's a nice restaurant and it looks like a castle. Mike asked me to go.
I said yes and then I set out looking for a dress. I hated dressing up and had no dress clothes. I finally found an outfit that I loved but I never told Mike that I had found it. Some things happened since the time he asked me to be his date and he decided that he no longer wanted to take me. :( So I never got to go.
After we were married for a few years I finally told him that I had bought a dress for that time we were supposed to go to that restaurant. He felt sooo bad! I think it was that day that he made a silent vow that he was going to take me there.
It took a while and there were a few failed attempts along the way but he did eventually take me to Shakespear's Restaurant and we had a lovely evening. It was special. And we've been back a few times since.
And that is the date that stands out in my mind because Michael made right something he had done wrong years ago. I love him!!
If you want to join in for the week... or maybe even just a day... head on over to
My Little Life
and link up. You don't have to be married, or engaged, or in love to participate. You can tell all about your best friends... Mama M. says so! :)