It's day 4 of Mama M.'s Valentine's Day extravaganza. Today is favorite wedding day memories.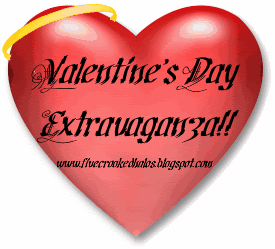 My wedding and reception were very non-traditional. We made it our own and left a lot of the typical stuff out. I like simple so we kept it simple. We planned it all in seven weeks and before we knew it the wedding day had arrived.
I wasn't nervous. At all. I remember being so confident of the decision I was making. I liked having that complete peace.
I will always remember the moment my dad and I stepped in through the back door of the sanctuary and every rose and started snapping pictures. It was crazy! All the attention felt a little strange. I wanted to just run down the isle and have it be over with.
Something that Mike and I always talk about when we remember our wedding day is the unity candle. I had a friend do my decorations and she just bought some cheap candles and glued some decorations on them... including some fake flowers. They were cute... but the flowers weren't such a good idea. At some point during the ceremony I noticed lots of black smoke going up from one of the candles. The flower had somehow caught fire haha. Something needed to be done. The Pastor didn't see it. He told everyone to bow their heads to pray and I looked at him and put my finger up to signal "hang on!" He looked at me really confused. I walked over to the candle, blew out the fire that wasn't supposed to be there while managing to keep the wick lit, then got back in place and the Pastor went on with his prayer. No one saw this happen except for some in the wedding party because everyone else was being good and following the Pastor's instructions to bow their heads for prayer.
When the ceremony was over we stood in the back of the church while every one waited in line to hug and congratulate us. We told them to go downstairs to the fellowship hall and get right in line for food. Don't wait for us. (That was a big hit!) Everything worked out so well and since we had covered the tables with white paper and put crayons out we had plenty of messages to read when it was all said and done.
If I had to do the day over again I wouldn't change one thing about it. However, if we ever renew our vows I will do it in the middle of summer instead of the middle of winter so I can make it super casual and have a big BBQ and get out some volleyball nets. That would have been the reception had we waited till summer. :)