Mama M. over at
My Little Life
hosts Five Question Friday every Friday. Check it out and join in. :)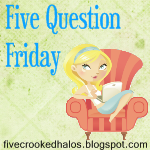 1. Have you ever had a celebrity sighting?
Kind of. You may not think so but I did. Growing up we ALWAYS watched this Christian show called
Gospel Bill
and it took place at
Dry Gulch
... which has actually been made in to a camp. I should work there. Anyways... one of the main characters was Gospel Bill who I later found out
pastors a church in Oklahoma
. Well I was on a trip to Oklahoma with the in-laws to visit some more in-laws and we actually went to "Gospel Bill's" church. All through the sermon I was kind of star struck and couldn't help thinking "Oh my gosh! I can't believe I am sitting here listening to Gospel Bill!!" haha. And then we stopped by Dry Gulch but it was closed on Sundays. Boo. :( So yeah, that's my celebrity sighting. Does anyone even know of the show I am talking about???
2. What temperature do you keep your house?
In the winter... and it's been a cold one!... between 62 and 67. We are cheap. Put on some extra clothes and grab a blanket. In the summer since we don't have air conditioning it tends to be whatever temperature it is outside... or more on somedays. Those 90 degree days are NOT fun!
3. Do you notice dust at other people's homes?
I don't think so. Well yeah, if the light is hitting it just right but it doesn't bother me because there is plenty of dust to be noticed in my home.
4. What's the worst job you ever had?
I'm going to have to go with being a janitor in the college dorms. Ugh. Yuck! Have you ever seen a community guys bathroom on the weekends. Nasty!!!
5. What is your most sentimental possession?
I'm going to have to go with all the rings Mike has given me. My engagement and wedding rings. My pink sapphire. My newest... the pearl ring. There is something sweet and special behind every one and if anything ever happened to any of them I would be completely devastated.