My head seems rather jumbled today but I feel like writing so I am going to link up with Miscellany Monday for the first time EVER (did you like how I made that dramatic!? I'm cool like that.) and spill all my jumbled ramblings on my dear readers. I love you like that.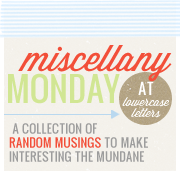 1. Is it bad that I can't remember what I did this past weekend? I didn't even have anything that would alter my mind. I never do those kinds of things. But when thinking of this weekend... blank! Maybe I'm just getting old. I mean, really, I used to think that 31 seemed sooooo old. It's all relative I guess though because now that I am here at 31 it still feels soooo young. Seriously... I was just a kid a year ago.
2. What do you do about whining kids? Jason seems to just love to whine. He is almost three. And everything is done through whining. I hate it. Haaaaate it. How do I make it stop?!
3. I had about $100 in sales last week on all the cute hats and barrettes I've been making! FUN! All I did was post some on my blog and people were all over them. :) Liza loves them too. Great first week of "business"!
4. Have you checked out my
Project 365 blog
? Taking one picture a day every single day isn't really that easy. Sometimes it's 9:30 at night and I realize I haven't used my camera yet and well... at that time I'm just not going to do it. I've already missed some days and haven't even been going a month. Oops. But I'll keep going. It makes me try harder when it comes to taking pictures.
5. I FINALLY booked my flight to Florida. My sister is getting married on March 4 and I am the photographer. Kind of important that I get there. I got my ticket for $170 and I'm hoping to pack everything into a carry on. Save money is motto! (I just made that up though.) I'll be in Tampa from Feb 28 to March 5. If you live near there and want to try to meet up just let me know! Tuesday and Wednesday would probably be the only days I have much time open. Lunch anyone?
Alright. That's all. My head still feels jumbled. I think I need a good, mindless book. Chick lit probably. Any recommendations?