Last night was just what I needed!!... An encouraging night out with 18 other awesome ladies! Me and
my friend Amy
began
Butler Praise and Coffee
earlier this year and it has been such a blessing to me! I have met so many great Christian women from my town and they are all so wonderful and uplifting!
Last night we gathered at The Net for a discussion on Proverbs 3:5-6...
Lean on, trust in, and be confident in the Lord with all your heart and mind and do not rely on your own insight or understanding. In all your ways know, recognize, and acknowledge Him, and He will direct and make straight and plain your paths. (AMP)
Amy gave us some questions to think about. Am I leaning on and trusting Jesus, or am I leaning on and trusting my own insight? Am I recognizing and acknowledging Him in everything I say, do and think about? In what areas of my life could I trust Him more? What has God promised me in this scripture?
Of course, when you have a group of 19 women sitting around some tables you never have to worry if a discussion will start up. It will. :) And it did.
This has been an interesting year for me. One of learning to just trust God. To NOT worry. I've never been much of a worrier anyways but this year has stretched me for sure! In my own understanding it does NOT make sense to buy a house since Mike hasn't had much work and paychecks are smaller than ever. There is a lot of uncertainty. BUT I KNOW that God has said this is the step to take right now... even though it doesn't make sense in my own understanding. I could spend all my time worrying about it... but I don't. Sure there are some days when I focus on what I know instead of Jesus and I panic a little but as soon as I remember that this is where God wants us, that HE is the one who directed this move I know I don't need to worry. My God will take care of me.
Someone raised the question "how do we not worry? What does that look like practically applied?" After discussing this for a while I realized that we were asking the wrong question. We shouldn't be focusing on how to NOT WORRY but instead we should be asking HOW DO I LEARN TO TRUST? As we learn to trust the worry will fade. Don't spend your time trying to shut down the worry. Spend your time learning to trust.
And how have I learned to trust?
Well... I just turned 33 and I have known God all my life. Grew up in a family that lived for Him. As I look back over the past 33 years I can honestly say that God has NEVER let me down. Not once! He says He will never leave me and as I look back I can see that He was always there... even when I was unsure. He was there. Everything He has said in His Word that He will do... He has done. He is trustworthy and faithful and therefore I can trust.
Proverbs 3:5-6 in my NIV reads:
Trust in the Lord with all your heart and lean not on your own understanding; in all your ways submit to him, and he will make your paths straight.
I thought it was interesting that the word "submit" was used. Lisa Bevere has the best definition of submission that I have ever heard. "Sub" means to come under so we are simply "coming under the same mission." When you come under the same mission as God, when you walk in His ways, when you seek first His Kingdom... when you live like that it's easier to not worry because you
have
to trust.
Obedience will build trust. When God says... I do. And as I do as He says and stop living by my own understanding I learn that every time He has led me in the right direction. Every time He was right. Every time He took care of me.
The more I walk with God the easier it is to trust. The more I am able to trust the less I find myself worrying.
The amplified says "be confident in the Lord." To be confident means to have full assurance. Today I will choose to be confident in the Lord... because I have learned that most often my own understanding is quite messed up. :)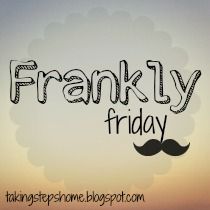 PS... you all should check out
my other friend named Amy
. She is hosting Frankly Friday and it's a wonderful link up idea!!