Don't miss the giveaway I have going on! A possible three entries per person.
Christmas Swappers... Don't forget to mail your package by tomorrow!
**********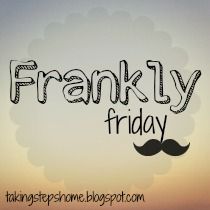 James 2:14-19
What good is it, my brothers and sisters, if someone claims to have faith but has no deeds? Can such faith save them? Suppose a brother or a sister is without clothes and daily food. If one of you says to them, "Go in peace; keep warm and well fed," but does nothing about their physical needs, what good is it? In the same way, faith by itself, if it is not accompanied by action, is dead. But someone will say, "You have faith, I have deeds." Show me your faith without deeds, and I will show you my faith by my deeds. You believe that there is one God. Good! Even the demons believe that--and shudder.
There is so much more to faith than just believing in God. The demons believe in God.
Actions show the depth of our faith. Our actions reveal who we truly are and what we truly believe.
Every day will come with its tests... will we do our best to pass them?
My story...
When I was looking to buy a house I was all "I want to move downtown! I want to go where the people are! I want my house to be a place where people want to come, where people can relax and feel refreshed. I want my house to be a place where ministry happens!"
Just yesterday I was sitting at Panera with a friend. She and her family have been living with her parents for over a year now. I can only imagine how hard that might be... no matter how nice the parents are (and hers are lovely!) you never have your own space. As she was sharing, an idea popped right into my head and I knew if I didn't say it immediately that I never would.
That thought? "Hey, so my family is going away on December 7 and 8. Why don't you and your family come stay at my house while we are gone. It might make it feel like you got a little getaway without having to spend the money."
Then I came home and told Mike what we were doing.
And here's the thing... it's not about me! Not at all. It was about my friend and her need. It was about putting action to my words. You see... This is NOT what I thought using my house for ministry would look like! The thought never even crossed my mind. I've said a gazillion times my house will be a tool... and this time God said "use your tool this way".
Yesterday I passed the test.
Many days I fail.
I walk away from a friend (or stranger) that asked for prayer without immediately praying for them.
I decide that I like my money too much to hand a friend that needs it more a couple dollars.
I find that I hate the kitchen too much to cook a meal for a frazzled and worn out friend.
I think I'm too tired to listen to someone.
Or maybe that person looks too dirty for me to give them a hug.
Sure, I can talk all day about the "right things to do"... so what.
So what if I can talk about it.
The real test is can I live my words?